News
Friday, June 30, 2023 6:42 PM
Senator R Pelton's Interim Newsletter about State Member's Eastern Plains Tour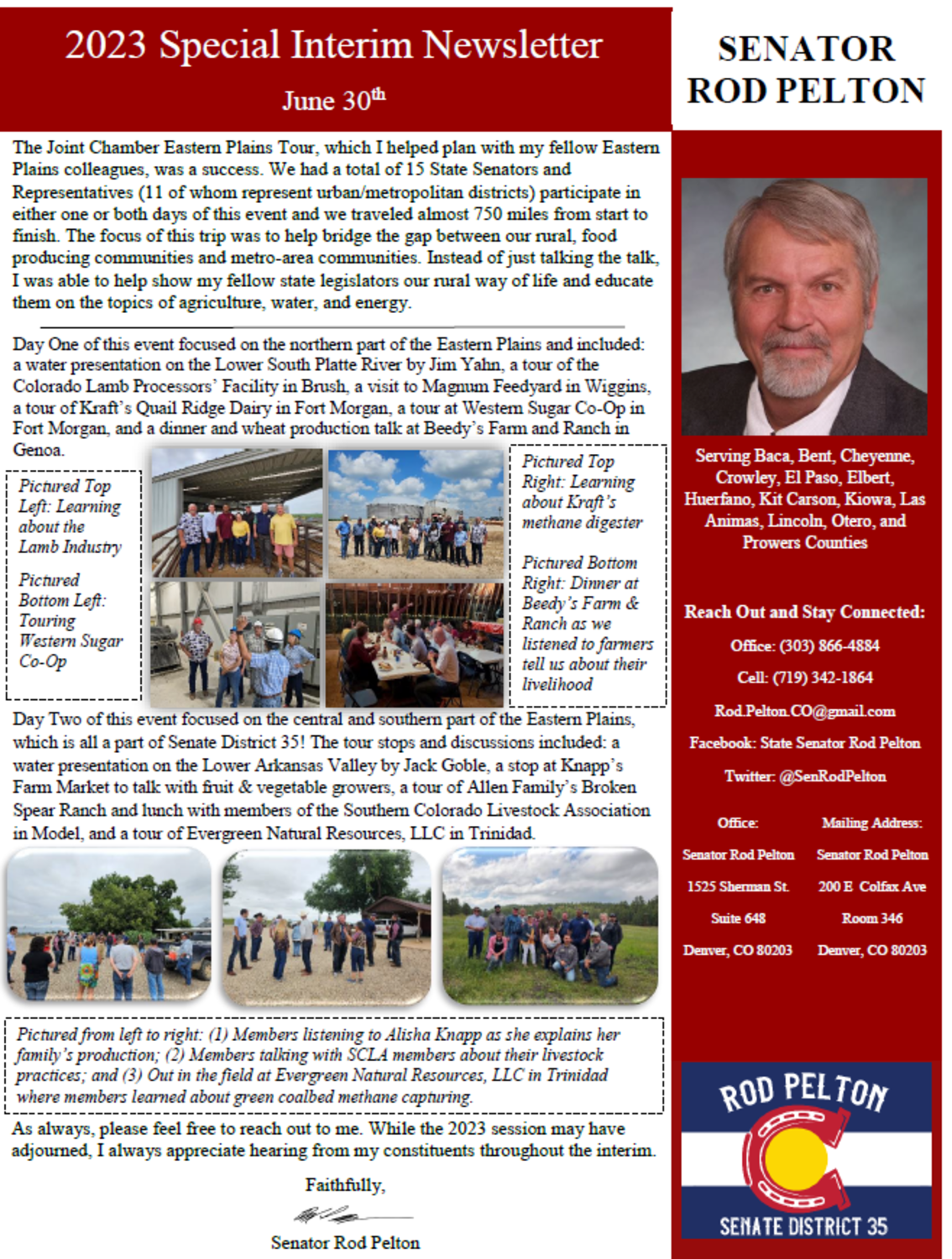 ---
Friday, June 23, 2023 2:38 PM
Front Range legislators tour Eastern Plains agriculture By Rachel Gabel with the Fence Post
Each summer, rural Colorado's legislators host a tour of some agricultural operations within their districts so legislators further removed from production agriculture can attend, tour, and hear from ag producers in the state. Republican Sens. Byron Pelton and Rod Pelton and Reps. Richard Holtorf and Ty Winter hosted the two-day tour with the first day in northeastern Colorado and the second day in the southeast. Click here to read how this two-day Joint Eastern Plains Tour went.
---
Friday, June 16, 2023 12:32 PM
Letter to the Editor: The Eastern Plains Are Vital to Colorado
Three of my rural colleagues and I have come up with what we hope is a partial solution to this [urban/rural] divide. We have extended an invitation to all of our fellow State Senators and State Representatives to join us on a two-day tour of the eastern plains. Discussions on this tour will focus on agriculture, water, and energy – all of which are vital resources here in Colorado. We cannot afford to lose the amazing resources that Colorado has to offer, so we need to spread awareness of their importance to our state's economy... It is one thing to talk to urbanites about rural Colorado and the many resources we have to offer; it is another to actually show them. Click here to read more.
---
Sunday, June 4, 2023 12:40 PM
Rural Route Radio - CO is the tip of the spear for challenge in using the great resources the state has & Sen Rod Pelton is seeking to be the bridge
Had an interview with Trent Loos on June 2nd about Colorado is the tip of the spear. Thanks for the opportunity to talk about being a rural legislator. Listen here.
---
Thursday, May 18, 2023 5:01 PM
Recognized for the Faith, Family, and Freedom Award
I am honored to be recognized and selected to receive the Faith, Family, and Freedom Award for 2023 by the Centennial Institute at Colorado Christian University.